Monday, November 30, 2015
Bill Gates will announce the creation of a multibillion-dollar clean-energy fund today at the opening of a Paris summit intended to forge a global accord to cut planet-warming emissions, according to people with knowledge of the plans.
The fund, which one of the sources described as the largest such effort in history, is meant to pay for research and development of new clean-energy technologies. It will include contributions from other billionaires and philanthropies, and a commitment by the United States to double its budget for clean-energy research and development, according to the sources, who asked not to be identified.
The announcement of the fund, which has the joint backing of the governments of the United States, China, India and other countries, the sources said, is intended to give momentum to the two-week Paris climate talks.
Negotiators hope to strike a deal committing every nation to enacting policies to reduce fossil-fuel emissions. Gates, co-founder of Microsoft, will join more than 100 world leaders, including President Obama, in Paris on Monday to begin the talks.
The pending announcement was first reported by ClimateWire, an online news organization. A spokesman for the Bill & Melinda Gates Foundation did not respond to a request for comment.
If successful, the Paris meeting could spur a fundamental shift away from the use of oil, coal and gas to the use of renewable-energy sources such as wind and solar power. But that transition would require major breakthroughs in technology and huge infrastructure investments by governments and industry.
Continue Reading »
Friday, November 27, 2015
Patrick Joyce, 46, was diagnosed with the progressive muscle-wasting condition in 2007 and told he would not live more than three years.
Eight years on, the former plumber has beaten more than 700 rivals in an international science competition with his revolutionary gadget.
It works by observing the user's eye movements with a camera, which sends a video to a computer built in to the wheelchair. Special image processing software known as a 'brain box' then converts the eye movements into signals which move an electronic grip on the joystick.
Those with tetraplegia – who have completely or partially lost the use of their legs and arms – can use the system to steer, recline and alter the speed of their wheelchairs. It is different to the device used by fellow MND sufferer Professor Stephen Hawking, 73, who has a talking computer that he controls by moving his cheek.
Joyce, who is married to Kathy, 46, has even made an attachment that allows him to fire foam darts from a toy gun at his children.
After his illness left him totally reliant on a wheelchair, he spent two years designing the device with two other inventors – fellow MND sufferer Steve Evans, from Surrey, and British filmmaker David Hopkinson. They entered their device, Eyedrivomatic, for the American Hackaday Prize – a competition to 'build something that matters'. Joyce's wife, who has a son, Reuben, 13, from a previous marriage as well as the couple's children Elliot, eight, and Nancy, six, woke him at 4am to tell him he had won the £132,000 prize. He said the money means the family can afford a bigger home, as the two boys share a bedroom. Joyce added: 'I wasn't supposed to live as long as I have, and we hadn't planned on me still being alive when our kids were teenagers.
'Moving house should stop the boys from murdering each other, and provide more space for my inventions!' In 2013 Joyce, from Wells, Somerset, was awarded a BEM for his work raising awareness of MND. His Eyedrivomatic is comprised of parts that can be made using a 3D printer, and its plans are available online as a free download.
What a great invention!
Continue Reading »
Singer Rihanna's eighth studio album, entitled
ANTI
will be released exclusively on the
Tidal
streaming service today, Black Friday, November 27, 2015. The hard and digital copies will take place on December 4 according to a report.
ANTI marks the 27-year-old's first album since 2012's Unapologetic and will presumably include American Oxygen as well as the singles Bitch Better Have My Money and FourFiveSeconds, the latter featuring the album's executive producer Kanye West and legendary Beatles superstar Sir Paul McCartney.
Rihanna announced ANTI at the
unveiling of the album's artwork
at a Los Angeles art gallery six weeks ago.
Continue Reading »
Vanguard
reports that the 32-member Oyo State House of Assembly has suspended legislative duties until the state government pays the accumulated allowances owed the lawmakers.
According to information gathered, the government is owing the lawmakers furniture, car allowances and two months running cost for the legislative arm.
Due to the strike, the sitting that had earlier been scheduled for yesterday was put on hold.
Speaking on condition of anonymity, one of the aggrieved lawmakers said, that despite the cash crunch being experienced in the country, some state governors still manage to settle their lawmakers wondering why they should be the only ones suffering in the whole of the South West.
"We understand that the crash in the price of crude oil has brought the economy to its knees. The consequent drop in revenue affects all the 36 states as well as the Federal Government. But in spite of this dire situation, all other governors have sorted out the allowances of their state houses of assembly. Throughout the country, only those of us who are lawmakers in Oyo State are left languishing.
"During the last Assembly, in Governor Ajimobi's first term, cars were bought for all the lawmakers. They were also paid furniture allowances. The running cost of the House was also paid regularly. These allowances are statutory," he said.
He also hinted that the House did not sit last week as a result of the accrued allowances.
"Last week, we boycotted sitting to protest lack of concern for our welfare. Without the running cost, the Assembly cannot function. The running cost for the office of the governor is paid regularly. Why is the House left out?" the lawmaker said.
Continue Reading »
Kourtney Kardashian shared a photo of herself and 11-month-old son on social media. She and Reign Disick, he ryoungest child wore white outfits for the snap. The reality star captioned it:
"First Thanksgiving. #blessed"
Baby Reign is the youngest of three, behind sister Penelope Disick, 3, and Mason Disick, 5 , all three of which Kourtney had with her longtime partner, ex-boyfriend Scott Disick.
So adorable!
Continue Reading »
The #CondomChallenge though weird is for a good cause. It commenced on November 22, 2015. To participate you only need to fill a condom with water and drop it over someone's or a volunteer's head. If you get it done correctly, the condom will retain the water and enclose the person's head.
See the ice bucket challenge
here
.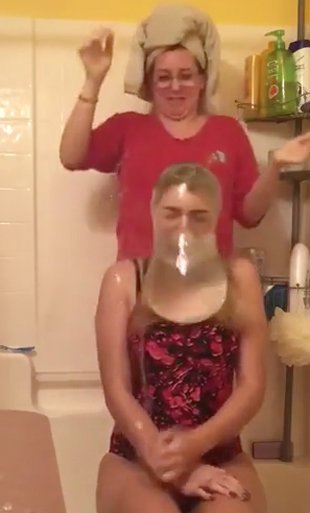 It is designed for save sex awareness: if a condom filled with water can fit over someones head and not break, the thinking goes, they should show dudes why "condoms don't fit" is a miserable excuse for unsafe sex.
The challenge is trending on social media:Twitter and Instagram. Crazy or Silly? Will you try it?
The hashtag is "
#CondomChallenge
".
Continue Reading »
Thursday, November 26, 2015
Late Chief (Mrs) Hannah Idowu Dideolu Awolowo who
died
on September 19, 2015, has finally been laid at her husband's home to rest after 10 days of funeral rites in Ikenne, Ogun state on November 25, 2015. President Muhammadu Buhari, Vice President Yemi Osinbajo, his wife Dolapo, Senate President, former Head of State Chief Olusegun Obasanjo, Aliko Dangote, some state Governors among others attended the funeral ceremony.
Continue Reading »