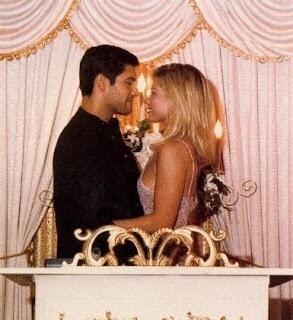 Kelly Ripa and her husband, Mark Consuelos celebrated their 20th wedding anniversary recently. She shared a photo on twitter revealing that her wedding dress can still size her. She captioned the image:
"See that dress? That's my wedding dress. And guess what? It still fits,"
The talk show host and television producer, who got married on May 1, 1996, said she purchased the dress 5 years before her wedding.
"I didn't buy it as a wedding dress.

"I just bought it because it was really pretty, and I wanted to buy something from the Barney's warehouse sale...And I said to myself, 'I bet if I buy this, maybe it will be an investment piece. Maybe I'll wear it more than once."
"I was working on the soap. I didn't make a lot of money. And it was $199 on final clearance sale." Quite the tough decision when you're on a budget, but it turns out Ripa made the right call. "I wear it all the time," she said, "It was the best $199 I've ever spent in my life."
Lovely!
Source